For a long time, social media was a wonderful outlet for being, well, social. From Facebook to Twitter, from YouTube to Instagram, each platform served as a means to stay in touch, share pictures and videos, and express our likes, dislikes, and various opinions on whatever topic came to mind.

Over the past half-decade, social media has proven useful for another reason: conducting business. For buyers and sellers alike, social media serves as more of a digital marketplace than an online social network. And why not?

Locally, you have access to a captive audience of thousands. Regionally or nationally, it could even be millions.
Not surprisingly, social media is now prime territory for showing off and marketing Texas Hill Country real estate. Those listings, however, must be more than a picture and a post that reads "For Sale."

Let's explore the platforms at your disposal and the unique ways to use social media for marketing your home.


Social Media: A Primer
Before we get into how to market your Hill Country listing on social media, it helps to review how each of the primary platforms helps position your home. First, let's note the significant platforms where posting a real estate listing makes the most sense.
Facebook
The definitive social media platform, Facebook, has over 2 billion global users. With a reach like that, it's hard to ignore Facebook's advertising power. You can market your home inexpensively through Facebook Ads, create a standalone real estate business page, or use your own Facebook page. The site has over 170 million unique U.S. users each month.
YouTube
Owned by Google, YouTube is on par with Facebook in terms of popularity and the sheer volume of users (it ranks second in web traffic, behind only Google and just ahead of Facebook). The site has over 126 million unique users each month.
Instagram
Owned by Facebook, Instagram is the web's preeminent photo and video sharing app. The user base skews young, and they love to share. The business segment of Instagram is equally robust, with estimates showing the site generates more ad revenue than Facebook, a testament to the site's influence as a marketplace. The site has over 121 million unique users each month.
TikTok
As a video creation service, TikTok gained a considerable following during the pandemic. With the ability to create up to 180-second videos, innovative, well-produced clips — often with an element of zaniness — frequently go viral. The site has over 100 million unique users each month.
Twitter
Home of the digital sound byte, Twitter is a popular hub for not just text but images and videos as well. The site has over 81 million unique users each month.
LinkedIn
LinkedIn is a vast platform for networking. In real estate, this translates to generating interest for your property through real estate agents with interested buyers. The site has over 70 million unique users each month.
Pinterest
The hugely popular Pinterest is a site tailor-made for sharing images and information about your home listing. It acts as a repository of sorts for all things fashion, travel, and design. Home images posted to the site link back to your home's online listing, be it MLS, Facebook, or a standalone landing page. The site has over 67 million unique users each month.
While other platforms exist, the above seven apps represent the most popular and most widely used social media outlets. They also lend themselves to showcasing homes to a broad audience in distinctly unique ways.

Speaking of which, let's get into a few unique ways to use social media to market your home.
Harness the Power of Facebook
Using Facebook to advertise or sell anything isn't exactly unique. You'd be crazy not to use Facebook's marketing reach to spread the work on your Hill Country home listing.

Aside from posting a listing, the platform offers one of the most potent advertising methods available anywhere: Facebook Ads.

If you don't mind spending a little money, Facebook Ads taps into the social media giant's demographical data. You can limit your scope to match the demographic profile of your ideal buyer, including age, income, gender, interests and hobbies, and location.

Effectively, your residential listing will only be seen by the individuals most interested in or most likely to buy your home.

Note that similarly powerful advertising tools are available on Instagram or Pinterest. Advertising is popular on both sites. Pinterest offers a cheaper entry into advertising, while Instagram serves as a more visual extension of Facebook.
At Home Movies
High-quality images and virtual tours are a staple of selling high-end real estate. You'd be wise to post them as often as you can across all of your social media channels.

That said, utilizing video is even better. Whereas pictures and virtual imagery present static visuals, video gives your home movement and energy. Video also provides you flexibility in how you choose to present your home. You can film the home's highlights or go into greater detail, showing off the property's unique features.

Using just your smartphone camera and video editing app, you can create a full-scale tour of your home. You can also edit it down to a snippet, trailer, or extended-length trailer, adding voiceover description or music along the way, and post it to an account on YouTube.

You can upload that same video or edited versions of it to all of your social media channels, including Facebook, Instagram, and Pinterest.

For added drama and stunning visuals, use drone technology to capture your property from every angle. You may have to hire a videographer for this, but the investment is worth it.
Create Shareable Moments
Although you may not need your home's social media posts to go viral to sell your home, you do want to make the online experience memorable.

With luxury Hill Country homes, there are several options available to both sell the house and its unique Central Texas lifestyle.

For starters, use staging to flex the property's unique bonafides. Stage your outdoor kitchen and pool area as if there's a good old-fashioned Texas-style barbeque taking place.

Use memes and GIFs to cast your home in a more whimsical light. For example, if your home is on a golf course, stage a couple waving from the second-floor balcony to the golfers on the course below. Not only are you framing the home's stellar location, but you're showing off the carefree, luxe lifestyle that comes with it.

If the home, land it sits on, or specific location comes with history attached, market that too. You can quickly produce and share infographics detailing the property's lineage. Buyers will appreciate a home with a distinct story behind it.
Tell Your Home's (Instagram) Story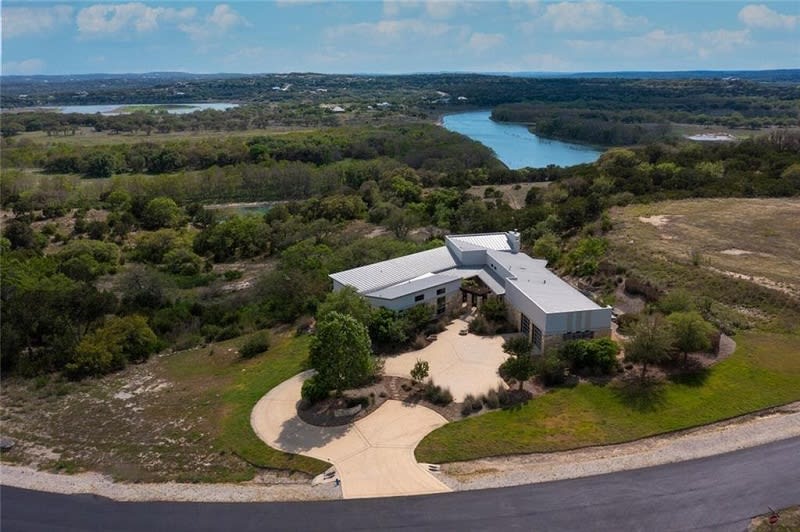 Speaking of stories, Instagram Stories is a tool within the social media app that lets users share posts that include copy, videos, and images. There are even tools for direct engagement where other users can ask questions.

Celebrities most notably use the tool, but it's excellent for crafting a real estate listing as well.
Using your Instagram Story, you create your listing by first uploading images, videos and adding a location sticker and location-specific hashtags.

Once you've created the baseline story, continue to infuse it with content. Tag the team who made the listing possible, including your realtor, stager, and photographer. Keep the story fresh with new videos or special access features that focus on a unique aspect of the property.

Also, consider tagging local buyer's agents. Your realtor can assist you with who's who in your area. This step is useful in spreading the word about your listing to those who represent the people most likely to want to purchase it.
Make the Most of TikTok
Of all of the social media platforms, TikTok is arguably the hottest service going. It might also be the most misunderstood.

Thanks largely to the stay-at-home videos users created, TikTok's popularity took off during the pandemic. It doesn't hurt that it has a strong following among younger millennials and Gen Z.

Considering the platform's central focus is video, home tours are a natural fit. You can use the service to craft uniquely produced videos.

Set tours to trending tunes. Use filters to accentuate a home's most dynamic features. Create a Q & A where you answer inquiries regarding the home, neighborhood, or community.

TikTok may not be as robust as the other sites listed here — not yet anyway. But it is buzzy. Take advantage of its expanding relevance to build momentum for the sale of your own home.

Whichever social media platform you use to market your listing, keep your content fresh and consistent. The world of digital real estate moves fast. To maintain focus on your home's social media presence, make sure to move with it.

Social media is one among many components to a successful sale. To better optimize your home sale, contact The Veritas Group today. Our experience, network, and marketing approach has helped our Central Texas clients maximize offers received and return on investment. From Dripping Springs real estate to listing your home for sale in Lake Travis, we understand the ins and outs of living and investing in Hill Country real estate.

Whether you find yourself buying or selling, allow our team's experience, expertise, and passion for Texas real estate to inform your next property transaction.