As of 2015, Dripping Springs is officially the wedding venue capital fo Texas. No joking around. Because the area is so renowned in the wedding industry, the Texas legislature made it official by designating Dripping Springs the "Wedding Capital of Texas."
For a town with the population of around 4,000, we have a huge wedding industry, including venues, event coordinators, caterers, and more. For new and existing residents, you may be wondering what makes it so great for weddings. Below, we've curated a list of our top 5 wedding venues in the Drip.
Camp Lucy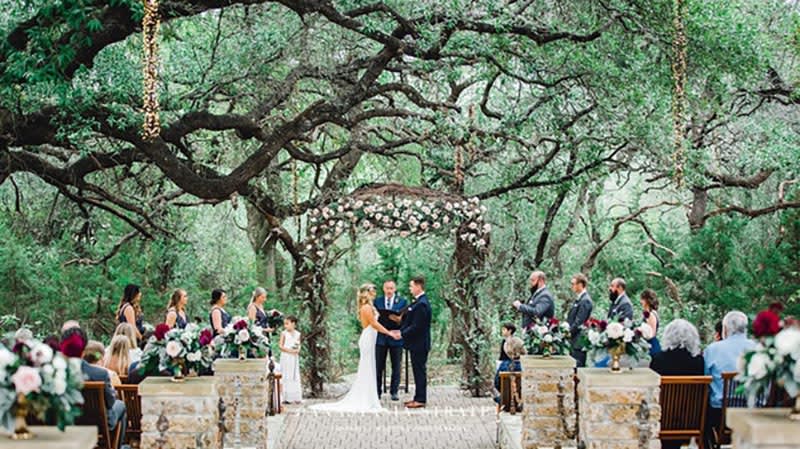 Camp Lucy, a Whim Hospitality owned company, is the premiere wedding venue in Dripping Springs area. It has everything that you and your wedding party need on your special day: stunning surround, 4-star lodging for you and your guests, great locations to get married in, and catering/restaurants on site. Located about 4 miles south and west of Dripping Springs proper, you'll have plenty of dining and lodging options for bigger parties.

If the photos of events at Camp Lucy are any indication, the venue can be transformed into any motif you're looking for, from traditional, to boho, to elegant, to garden-themed and more. It's the perfect palate with the ability to paint the wedding of your dreams, but be prepared to pay resort-style prices at Camp Lucy.
The Ranch at Bell Springs Winery
If you're looking for the idyllic outdoor Central Texas setting, then the Ranch at Bell Springs is your venue. Boasting more than 7,000 square feet of available event space, countless areas for ceremony and reception, a massive 2,000 square foot wrap around patio around the main house, and more. This venue was built for hosting the wedding of your dreams.

If you're looking for all-inclusive packages, The Ranch offers those in spades at an affordable price point. Located near the center of Dripping Springs and right next to the Bell Springs winery, this location will offer plenty for guests to explore while you're prepping for the big day.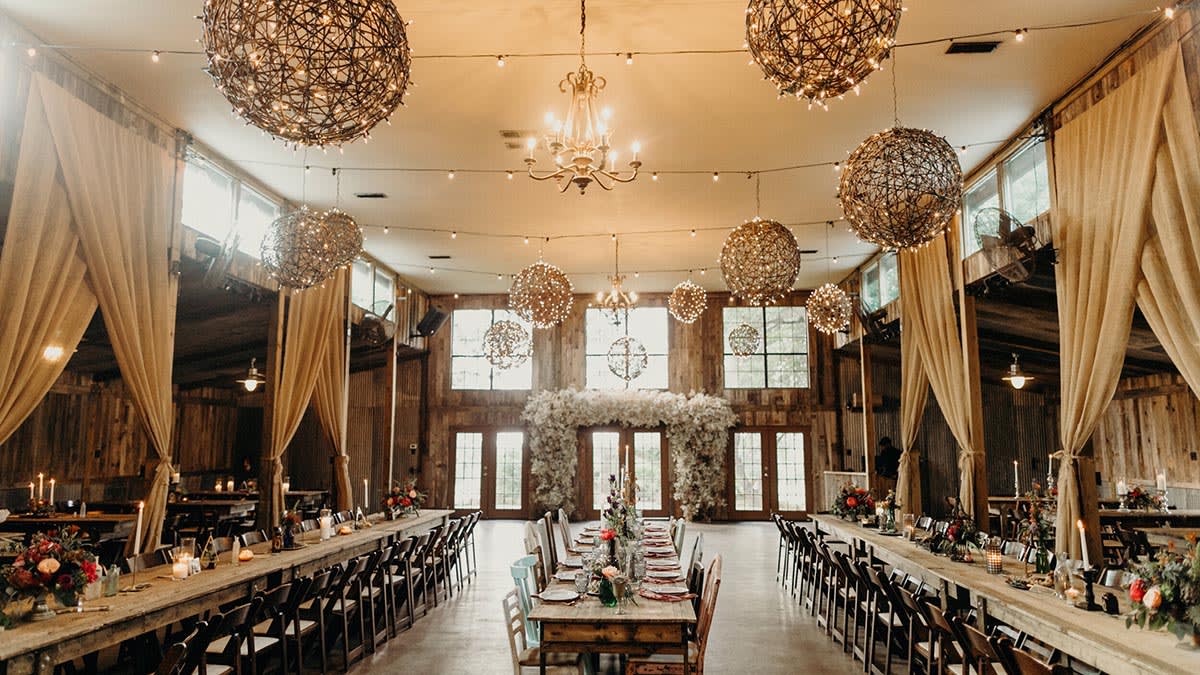 Vista West Ranch is a picturesque, rustic, barn-style wedding venue located about 10 miles northwest of Dripping Springs proper surrounded in pastoral hill country scenery. Customers and couples love this venue because it just looks so good. Centered around a corrugated tin and window-lined barn, the venue boasts several ceremony sites and plenty of on site amenities to host your dream event. On site amenities include:
Large biergarten
2 fire pits
Waterfall feature
Up-lit oak trees
250+ capacity reception barn
25 8 foot farm tables
250 fruitwood folding chairs
Outdoor cocktail area
Bar amenities (margarita machine, beer taps)


If you're looking for something stylish, boho/chic, and a located situated deep in the heart of the Hill Country, Vista West is the venue for you. The venue also offers The Creek Haus, a 4 night/3 day wedding venue with lodging so you can create an all inclusive experience.

Ma Maison was designed to be an all inclusive wedding venue from the top down, and it's received a reputation as one of the best places to get married in Dripping Springs. In fact, Southern Living gave them the distinction of "No. 1 Wedding Venue in Texas."
The list of on site amenities is seemingly endless. Let's start with the various reception and ceremony areas and enclaves on site. The Great Hall is an amazing interior space capable of hosting ceremonies and receptions which features rustic design and French accents with beautiful chandeliers. The Grove is a popular outdoor area for ceremonies because of it's picturesque location under a grove of Live Oak Trees. There's also a feature on site called the Green Cathedral, which is a wrought iron, open air structure that is often used as a ceremony site and photo op.

The whole venue boasts nearly 10,000 square feet of available space, which include bridal suites, patios, on site restrooms, and more.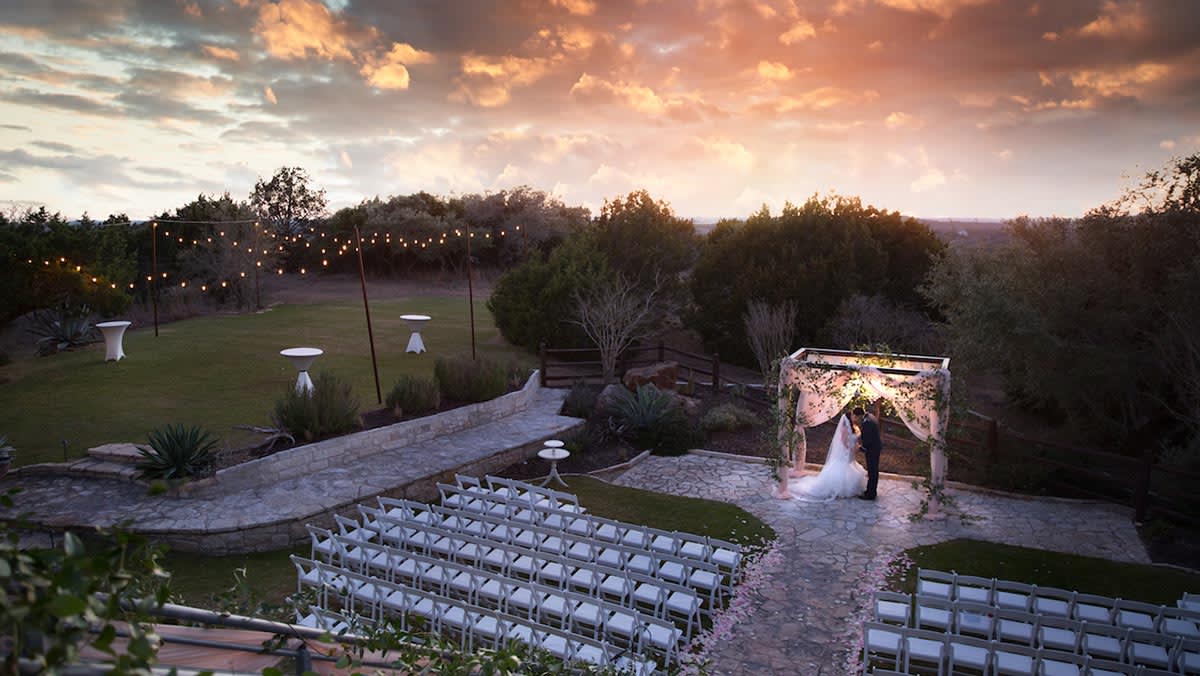 The Terrace Club is the most traditional wedding venue included on this list. If you're looking for a more time-honored appeal, then the Terrace Club and it's abundant on site and wedding-specific amenities are sure to fit the bill.

Located off of Highway 290 between Austin, TX and Dripping Springs, TX you won't find a more convenient locale for you and your guests who need to travel in. On site, the venue boasts 2 outdoor venues, 1 indoor venue, and all the wedding planning expertise and amenities that you'll need. As an experienced event space, The Terrace Club can help you with planning, day-of organization, and more.