Did you know that real Christmas trees are biodegradable and can be easily reused and recycled for mulch and other purposes? In general, trees can be recycled by curbside pick up, by dropping off at a designated recycling area throughout Austin. We've outlined several options in and around Austin.

Dripping Springs Tree Recycling
January 1st-January 7th, 2020
Dripping Springs area residents can recycle their Christmas trees at "The Triangle" from January 1st-January 7th, 2020. Trees can be dropped off anytime at the concrete slab on the west side of "The Triangle" (the corner of RR12 and US 290).

Collected trees will be turned into mulch and will be made available to the public on a first-come-first-served basis. Artificial trees and trees with flocking (fake snow) will not be accepted. Reminder: please remove all lights, decorations, tinsel, and tree stands before drop-off.
Austin Christmas Tree Recycling
Curbside collection: Beginning Dec. 26, 2020, the City of Austin residents can recycle their Christmas trees by leaving them on the curb during their regular curbside collection days. Residents should remove all lights, ornaments and tree stands, and place it on the curb by 6:30 a.m. on the day of collection. Trees that are over 6 feet tall should be cut in half.

Reminder: residents should not place trees in a bag or recycle trees with artificial snow.

Alternative Drop-Off Locations
Free Drop-Off Locations
Tree will be accepted free of cost at the locations listed below. However, a contamination fee will be added to any trees with tags, decorations, and/or plastic remaining.
TDS Landfill Creedmoor: 3016 FM 1327, Creedmoor, Texas, 78610

TDS & Garden-Ville Bee Cave: 4001 RR 620 South, Bee Cave, Texas, 78738
3219 S IH 35 Round Rock, Texas 78664

629 Dalton Lane, Austin, Texas 78742
2625 Woodall Dr. Leander, Texas 78613
6011 Blue Bluff Rd Austin, Texas 78724
4501 FM 620 Austin, TX 78732
3614 FM 973 Del Valle, Texas 78617

Drop-Off Locations with a Fee
Locations listed below have varying fees. Call for more information.
$20/per load

For more information: 512-477-9025

10701 Kinser Lane, Austin, Texas 78736
$5.00/per tree

For more information: 512-259-7430

3875 E. Whitestone Blvd., Cedar Park, TX 78613
Prices vary

For more information: 512-743-3909

10713 Ranch Rd. 620 North, Austin, TX 78726
Pickup requests only after Jan. 1. Prices start at $25 for pickup and disposal.

For more information: 512-301-4400

150 Pemberton Way, Austin, TX 78737

Zilker Park Christmas Tree Recycling
January 4 & 5, 2020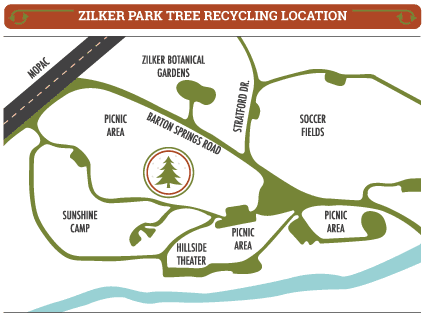 Residents who are not the city of Austin curbside customers may drop off their trees at Zilker Park, 2100 Barton Springs Road, between 10 a.m. and 2 p.m. on the last two dates: Jan 4 and 5. The city will mulch all the collected trees, and residents can pick up the free mulch beginning Jan. 16 at 9 a.m. Residents will need to bring their own storage containers for the mulch.

More Green Alternatives for Christmas Tree Recycling
Use the branches as garden mulch. You don't need a chipper to take advantage of your old tree. Using the most appropriate tool you have in the shed, remove the branches from your tree, and spread throughout your garden.

Firepit fodder. It's not advised to use your tree as indoor kindling in your fireplace or wood-burning stove. However, dried branches make for perfect burning in an outdoor fire pit.

Use the trunk for edging. Chop the trunk of the tree into two to three-inch discs and use them as edging for flower beds, walkways, and gardens.

Use the branches to start a compost. A thin layer of branches at the bottom of the pile creates an excellent base for compost, and the branches allow for airflow. It is suggested to stack branches at least four to seven inches high before adding your usual compost items on top.