Any preconceived notions you may have about Texas will be put to the test when you visit the Hill Country. Locals know this area as a rich area for wildlife, wildflowers, and many outdoor activities. Encompassing 17 counties within the south-central geography of Texas, the Texas Hill Country has no lack of things to do, places to see, and memories to make. 

There is so much more to the Hill Country than you can imagine. Here are five reasons people are flocking to this beautiful slice of Texas.  


1. Historic Significance
The 36th president of the United States, Lyndon B. Johnson, was born in the Hill Country on a ranch not far from Stonewall, Texas. He served as president from 1963 to 1969, during which he expanded upon the New Deal programs to help the poor and passed the Clean Air Act, the Civil Rights Act of 1964, and the Voting Rights Act of 1965. These are just a few of his many accomplishments as president of the United States. 

Chester Nimitz, a well-known Commander in Chief of the military during World War II, was born in the Hill Country town of Fredericksburg. The Museum of the Pacific War, located in his hometown, houses exhibits telling the story of Nimitz's life and the Pacific theater during the Second World War. 

Bandera is the place to visit if you want to experience the Southern cowboy charm abundant in the 1800s when this town was founded. This area served as a passing-through point for cattle drives heading north. Cowboy culture and heritage are celebrated each year through events such as "Funtier Days," a longhorn cattle drive, parade, rodeo, and more. 
2. Rich in Culture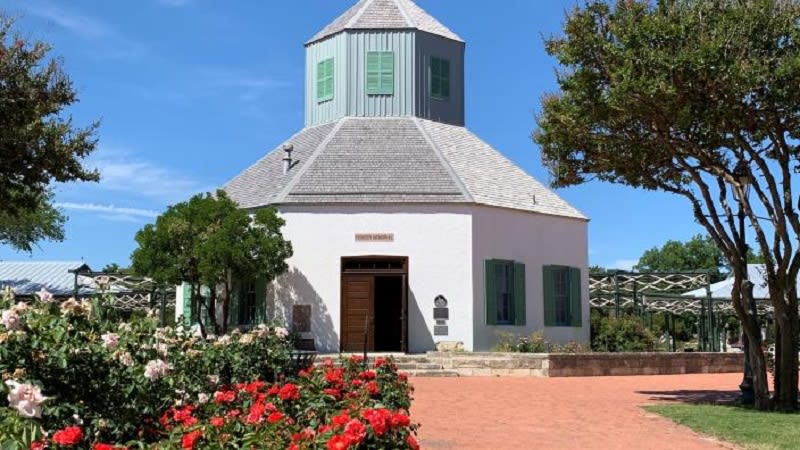 Credit: the Kirche Museum
Native Americans have a significant amount of history in Texas. The Lipan Apaches were nomads who followed buffalo herds throughout the Hill Country. They accepted the Spanish missions in exchange for protection from the Comanches coming to Texas from the north. This didn't last, and the Comanches later fought back against white settlers for hunting the buffalo to near-extinction levels. The least well-known native group in the area was the Waco, who established short-term residences during warmer months to grow crops instead of the popular nomadic lifestyle. The last Friday in September is American Indian Heritage Day in Texas to honor the impact that these early groups had on today's Texas.

Hill Country is also home to many towns between the Colorado and Llano rivers that German colonists founded as part of the 1846 Meusebach-Comanche Treaty, which settled some 7,000 German immigrants on the 5000 square miles of the Fisher-Miller land grant. It remains the only treaty that is still unbroken between Native Americans and European-American colonists. 

Though you won't find many who speak Texas German these days, you will find evidence of a German culture that is still alive and well. The Kirche Museum is home to local artifacts and paintings on display that tell the history of the first German settlers in the area and how this building is a nod to the original church that no longer exists today. It is one of the oldest buildings in Fredericksburg. Oktoberfest festivals, the German pyramid at Christmastime in Fredericksburg, and 12 historic one-room schoolhouses situated around the Fredericksburg area are places where you can still observe the area's German roots. 
3. A Comfortable Climate

Hill Country is a popular retirement destination, partially because the weather is agreeable pretty much year-round. Averaging just 38 inches of rain a year, 0 inches of snow, and 228 sunny days, it's safe to say that you'll be experiencing a lot more lovely weather days living here. In the Hill Country, you'll get hot summers, short winters, and temperatures averaging from 42 degrees to 95 degrees. But that's not to say that you won't enjoy the changes of the seasons. 

January is the month with the coolest night temperatures, averaging 34.4 degrees Fahrenheit. Spring is the driest season, leading into the wettest season, summer. May hosts the most precipitation, averaging 110 mm. July is the driest month for rain, and August is the hottest month, with temperatures averaging 96.3 degrees. Large, fluffy clouds punctuate the bright blue skies year-round, making for beautiful weather for all of your favorite outdoor activities!
4. Wildlife and Environment
The Hill Country is known for its mostly rural setting, a getaway from the hustle and bustle of Austin and San Antonio. Expansive lakes, rivers, hills, and grasslands are home to many species of Texas wildlife — everything from the state fish, the Guadalupe bass, to bats, whitetail deer, and the only remaining wild turkey population in the state.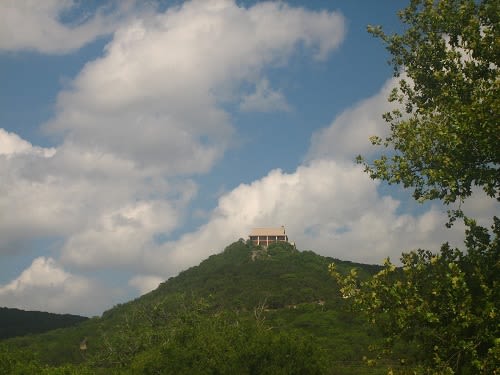 The Hill Country community strives to preserve the area's natural state for as long as possible. Thanks to places like the numerous wildlife refuges and the Westcave Outdoor Discovery Center, locals and tourists alike can learn about nature conservation — everything from how long it takes for trash and litter to decompose to how natural aquifers form sources of drinking water for thousands of people in the area. And the water quality? It's "clear, clean, and safe for swimming and fishing," according to the Hill Country Alliance. 

Multiple state parks reside in Hill Country, and each has its own natural wonders to explore. Among the other natural attractions available for you to visit, Enchanted Rock is a must-see. This natural granite dome is the largest pink granite monadnock, or isolated small hill in a surrounding plain, in the United States. If looking at or hiking up large rocks isn't your thing, Pedernales Falls State Park offers various activities, including camping, hiking, geocaching, bird watching, or water activities such as wading, tubing, and fishing on the Pedernales River. That's just the beginning of all the fun memories you'll make living in the Hill Country. 
5. Family-Friendly 
Hill Country is not just the retirement destination it's reputed to be — it's also a highly desirable small town locale with a lot of potential for families. There are year-round and seasonal activities to entertain every family member, from the kids to adults of all ages. Attend the annual Hill Country Wedding Show in January, the JCVFD Annual Fish Fry in May, or Kinderfest in December. There's something for everyone to enjoy!

For those who are self-proclaimed food connoisseurs, Hill Country is here to give you more than just a taste of what it has to offer. Southern barbecue at Opie's Barbecue, eco-conscious American cuisine at The Leaning Pear, and farmers markets and food trucks aren't an uncommon sight, but neither is the wide variety of restaurants, small-town breweries, and wineries to choose from. 

As a growing tourist destination, this area welcomes those with all interests. Visit any art galleries, farmers markets, musical venues, or experience traditional Southern fun, such as rodeos, ranches, and resorts. You can adventure all over Hill Country and its growing list of attractions without breaking the bank or driving for more than a few hours. 

For families with children, your children can choose from several school districts. Between Comal Independent School District (ISD), New Braunfels ISD, North East ISD, Blanco ISD, and Boerne ISD, there are 78 elementary schools, 29 middle schools, and 27 high schools. Wherever you're located in Hill Country, there are plenty of suitable education options for bright young minds. 
6. Affordability
If you analyze current GDP trends, Texas is the 10th-best state for growth in the United States and 9th for the economy, according to U.S. News. The area also boasts positive job growth over recent years and a predicted growth of 38.1%, higher than the United States' average of 33.5%. The Hill Country is steadily growing as an economic and business force, as its neighbor, Austin, continues to grow as a tech hub for large companies like Apple, Dell, Facebook, IBM, and Samsung. 

Thanks to tourism and the recent housing boom in this area, home appreciation is up 8.6%, according to BestPlaces.Net. Recently, Hill Country has been experiencing a housing boom, and rural land sales hit a record, up 95% over the year before. The small-town prices mean cheaper property taxes in Texas, and there are zero state property taxes and zero income tax. Local taxing units levy the property taxes, and living in larger cities like San Antonio and Austin brings higher property taxes as properties continue to grow in popularity. The trade-off for Texas's alternative tax solutions is a higher-than-average sales tax. 

If you're interested in relocating to Hill Country, the time is now! Don't hesitate to reach out to a Hill Country realtor to learn more about Hill Country real estate and the homes for sale in the Hill Country. Contact me today for new listings and to get all of the best this beautiful area has to experience. 
Photo Credit: Delaney Van, Photographer
apertureadventure.com